Flawless Finishes To Every Type of Lawn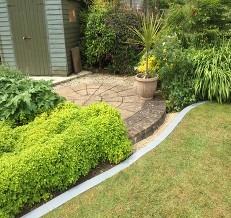 Easy Edge offers a simple to install, effective, perfect solution to trimming lawns, garden features, pathways and flowerbeds.
The stylish sections are easily driven into the soil along the side of the lawn and make a permanent edge that you can easily mow over. It can also be used for protecting cables and piping i.e. garden lighting and irrigation systems.
Interlocking metal edging that follows the contour of your lawn, easy to fit in minutes.

Reduces mowing time, no more strimming or shearing.

Ideal for all lawn types – along flower beds, walls and fences.

Available in 5 metre packs.
- FREE DELIVERY -
(In the UK except Highlands and Islands)
Order Now