High Quality Lawn Edging with Flawless Finishes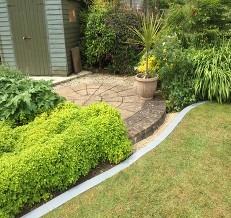 Quality metal lawn edging for grass borders, pathways, flower beds, landscaping, decorative and artificial gardens.
The stylish weather resistant metal lawn edging sections are easily driven into the soil and grass for decorative lawn borders. Being manufactured from high quality galanised steel makes them incredibly strong and sturdy for permanent landscape edging. Define grass borders, flower beds, pathways, garden and artitical boundarys with our attractive Brick Style metal lawn edging. Our lawn edging pavers can also be used for protecting cables and piping i.e. garden lighting and irrigation systems.
The multipurpose lawn edging products are flawlessly finished with hard wearing polyester paint for outdoor conditions. Our lawn and grass edging products are available in three colours: black, terracotta and silver. Easy Edge's robust lawn edging sections can be used for straight and curved edges which help to prevent grass from overgrowing into the border and into flower beds.
Interlocking metal edging that follows the contour of your lawn, easy to fit in minutes.

Reduces mowing time, no more strimming or shearing.

Ideal for all lawn types – along flower beds, walls and fences.

Available in 5 metre packs.
- FREE DELIVERY -
(In the UK except Highlands and Islands)
Order Now